Medal of Honor Knights
Medal of Honor Knights
Eleven members of the Knights of Columbus have gone "above and beyond the call of duty" during their service in the U.S. military
By Andrew Fowler 6/30/2022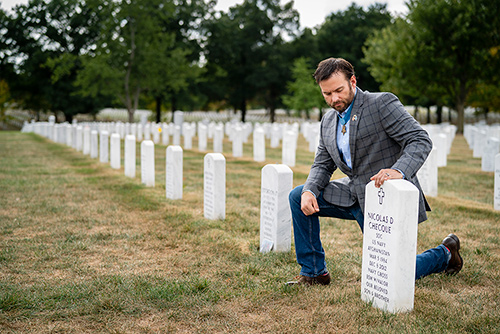 The Medal of Honor is the highest and most prestigious military decoration of the U.S. government, given to service members who have exhibited "conspicuous gallantry and intrepidity at the risk of life above and beyond the call of duty."
Among the pantheon of service members who have received the honor since the award was first presented in the American Civil War are 11 members of the Knights of Columbus:
Daniel Daly
Marine Sgt. Maj. Daniel Daly stood 5 feet, 6 inches tall and weighed just 132 pounds, but was a dogged fighter. During the Battle of Peking in 1900, he held a position alone overnight, repelling hundreds of "Boxer" rebels with only a rifle, bayonet and his fists. In 1915, during the Battle of Fort Dipitie in Haiti, he led his men out of an insurgent ambush to safety while crossing a river. Daly received the Medal of Honor for both of these actions — one of only 19 people to receive the honor twice. A member of Loyola Council 477 in Middle Village, N.Y., Daly was described by Marine Maj. Gen. John A. Lejeune as "the most outstanding Marine of all time."
Gerry Kisters
Army First Lt. Gerry Kisters was the first U.S. soldier of World War II to receive both the Distinguished Service Cross — the Army's second-highest decoration for valor in combat — and the Medal of Honor. The first medal honored Kisters, then a staff sergeant, for bravery in North Africa in May 1943. A few months later, on July 31, 1943, Kisters was part of a small group of soldiers tasked with filling a large crater in the only available vehicle route though Gagliano, Sicily. The detachment came under attack from two enemy posts with machine guns. After Kisters and another soldier captured the first post, he advanced alone to neutralize the second. Despite being struck five times by enemy bullets, he survived and succeeded in taking the position, helping his comrades advance safely. For his actions that day, he received the Medal of Honor on Feb. 18, 1944. After the war, Kisters joined the Knights of Columbus, becoming a member of John P. O'Donnell Council 1096 in Bloomington, Ind.
Willibald Bianchi
Army Capt. Willibald Bianchi, a member of St. Patrick's Council 1076 in New Ulm, Minn., posthumously received the Medal of Honor for actions in Bataan, Philippines, in 1942. Bianchi voluntarily led a group of American and Filipino troops against two enemy machine-gun nests near Bagnac on Feb. 3, 1942. He personally captured one of the positions despite severe wounds to his hand and chest. Though he survived that fight, Bianchi was later captured after the fall of Bataan in April. He suffered through the Bataan Death March, but according to eyewitnesses, he was known for his compassion and focus on his comrades' health. He died on a Japanese prison ship after it was mistakenly bombed by Allied planes Jan. 9, 1945.
James P. Connor
On Aug. 14, 1944, Army Sgt. James Connor was part of an amphibious assault against entrenched enemy positions on Cape Cavalaire in southern France. His 36-man platoon, attached to the 7th Infantry Regiment, 3rd Infantry Division, was greatly outnumbered, and its lieutenant was soon killed by a hanging mine. Though injured by the same mine, Connor led his comrades across the mine-saturated beach, eliminating two enemy snipers in the process. When the platoon sergeant was also killed, command fell on Connor — who had sustained more wounds to his shoulder and back. Wounded a third time, this time in the leg, he continued to direct the attack from a prone position, ordering the men to outflank and rush the enemy. The strategy was successful; the positions were captured and the enemy soldiers killed or captured. Connor, one of only nine platoon members to survive the assault, received the Medal of Honor for his courage and leadership. His medal citation concluded, "By his repeated examples of tenaciousness and indomitable spirit, Sgt. Connor transmitted his heroism to his men until they became a fighting team which could not be stopped." He was a member of Bishop Curtis Council 2867 in Wilmington, Del.
Paul Wiedorfer
On Dec. 25, 1944, Army Pvt. Paul Wiedorfer was advancing with Company G, 318th Infantry Regiment, 80th Infantry Division through woods outside Chaumont, Belgium. The patrol reached an open space, but was pinned down by two German machine-gun positions in the woods beyond the field. Knowing his company could not advance further if the two positions weren't cleared, Wiedorfer charged alone toward the German positions. Despite falling a few times under a hail of enemy fire, he reached, and subsequently subdued, the enemy. According to his Medal of Honor citation, Wiedorfer's actions "enabled the platoon to advance from behind its protecting ridge and continue successfully to reach its objective." Wiedorfer served in the military until 1948, reaching the rank of master sergeant. He was a member of Santa Maria Council 1733 in Baltimore.
Roger Donlon
Army Capt. Roger Donlon of Bishop Gross Council 1019 in Columbus, Ga., was the first person to receive the Medal of Honor for actions during the Vietnam War. Donlon was commanding officer of U.S. Army Special Forces Detachment A-726 when the Viet Cong launched a pre-dawn attack on Camp Nam Dong in early July 1964. Despite sustaining several injuries, Capt. Donlon continued directing the successful defense operations and rescue of wounded soldiers under heavy fire. Watch Capt. Donlon reflect on his military service here.
Walter Joseph "Joe" Marm Jr.
On Nov. 14, 1965, Army 2nd Lt. Walter Joseph Marm, a platoon leader in the 1st Cavalry Division (Airmobile), led his men in an attempt to rescue a surrounded unit during the Battle of Ia Drang in Vietnam. Halted by heavy fire from a concealed position, Marm exposed himself in order to locate the machine gun. After trying unsuccessfully to destroy it with a rocket launcher, Marm charged across open ground alone, hurling grenades. Although severely wounded, he continued his assault and eliminated the remainder of the enemy. Marm received the Medal of Honor Dec. 19, 1966, for his actions. He continued to serve in the Army until 1995, retiring as a colonel. Marm joined the Knights of Columbus in 1967 and is currently a member of Msgr. Arthur R. Freeman Council 5487 in Goldsboro, N.C.
Charles Watters
Rev. (Maj.) Charles J. Watters joined the Air National Guard in 1962, but after two years, joined the Army as a chaplain. In July 1966, Watters began his 12-month tour of Vietnam with Company A, 173rd Support Battalion, 173rd Airborne Brigade, during which he received the Air Medal and a Bronze Star. He then voluntarily extended his tour another six months. On Nov. 19, 1967, Watters' unit — 2nd Battalion, 503rd Infantry — became engaged in a battle near Đắk Tô. Under heavy fire, the chaplain tended to the wounded, administered last rites and retrieved men from the battlefield outside the American perimeter. According to his Medal of Honor citation, Watters was giving aid to wounded soldiers when he was killed. He posthumously received the medal Nov. 4, 1969. Watters belonged to Regina Council 1688 in Rutherford, N.J.

Patrick Henry Brady
Army Maj. Gen. Patrick Henry Brady's illustrious 34-year military career included two tours of duty as a medical helicopter pilot in Vietnam, during which he flew 2,000 combat missions and evacuated approximately 5,000 wounded troops. He received the Medal of Honor for actions during his second tour, when he was second in command of the 54th Medical Detachment. On Jan. 1, 1968, then-Maj. Brady flew a series of missions, in fog and under fire, to rescue American soldiers trapped in enemy territory. According to his Medal of Honor citation, Brady "utilized three helicopters to evacuate 51 seriously wounded men, many of whom would have perished without prompt medical treatment." Brady is a member of Holy Disciples Council 11948 in Puyallup, Wash.
Gary Rose
Gary Rose enlisted in the U.S. Army in 1967 and trained as a Green Beret medic. During Operation Tailwind, a secret mission in Laos Sept. 11-14, 1970, he repeatedly braved machine-gun fire to treat more than 60 wounded soldiers. The mission remained classified for decades, and few people knew of Rose's actions. Though recommended for a Medal of Honor in 1970, he received a Distinguished Service Cross instead. Rose continued his career in the Army, receiving a commission and retiring as a captain in 1987. After Operation Tailwind was declassified in the late '90s, Rose's former company commander led the effort to upgrade his DSC, and Rose finally received the Medal of Honor in October 2017. He is currently a member of the Knights of Columbus Good Shepherd Council 11672 in Huntsville, Ala. Watch Capt. Rose reflect on his military service and membership in the Knights of Columbus here.

Edward Byers Jr.
Dr. Dilip Joseph, an American aid doctor, was abducted by Taliban forces Dec. 5, 2012. Three days later, Chief Petty Officer Special Warfare Operator Edward C. Byers Jr. and a team of fellow Navy SEALs hiked four hours through the mountains to reach the compound where Joseph was being held in a remote area of Afghanistan. Once inside, Byers was exposed to enemy fire while trying to clear a path for the rescue team. He neutralized several enemy guards while using his body as a shield to protect the American hostage. According to his Medal of Honor citation, "His bold and decisive actions under fire saved the lives of the hostage and several of his teammates." A member of the Knights of Columbus in Virginia, he retired after 21 years of service on Sept. 19, 2019, as a master chief petty officer. Soon after, he spoke with Columbia about his faith and military career. Read the interview here.
Originally published in a weekly edition of Knightline, a resource for K of C leaders and members. Access Knightline's monthly archives.